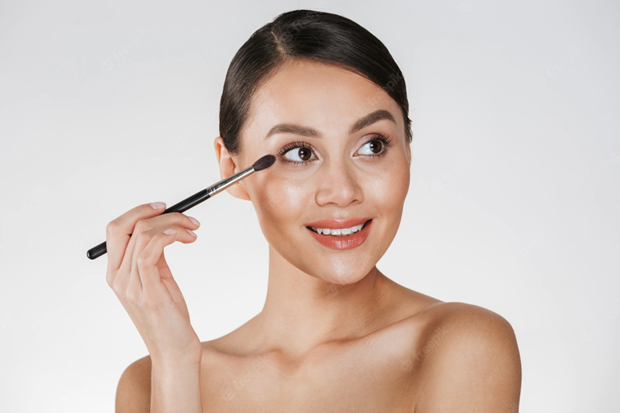 Makeup for women in their 40s can make them look beautiful even in their 40s. However, to take proper care, we need to be aware that as we get older, our skin drastically changes. Loss of collagen and elasticity can cause this aging. Therefore, in addition to using good skin care products, you should exercise frequently and eat well. This article will provide you with all the essential information about makeup products that women over 40 can use, including primers, foundations, blushes, and brow kits.
Moisturizing Foundation:
Primers have the same effect on your skin as lingerie does on your body. It evens skin tone, conceals imperfections, and holds makeup in place, ensuring that everything you wear looks its best. A solid foundation is all that is required to achieve uniformity. For healthy skin, mature skin needs more water and hydration.
Foundation:
As you get older, it's important to use the right foundation. Never choose a foundation that blends into your fine lines and wrinkles. Your holy grail when it comes to mature skin is a foundation that is suitable for dry skin, leaves skin even and supple, and doesn't emphasize fine lines. luminous foundation: Dust the T-zone if you're worried about shine.
Concealer:
You can look like you just had the perfect eight hours of quality sleep with the right concealer. A concealer that doesn't crease and stays on all day is all you need to cover those dark circles, blemishes, and other imperfections. Since your skin is very dry, it's best to use a concealer with a liquid consistency rather than a thick stick or waterproof formula. They usually make you feel slow and dehydrated).
Blush:
Include blush in your beauty routine. Why do you want to know? A healthy, radiant glow in a single application. Get rid of anything too cool if you use blush. The peach/pink shade is appropriate for all skin tones and can be worn both during the day and at night.
If you don't use any makeup at all, skipping blush will make you look old and washed out.
Kit for eyebrows:
Our eyebrows typically lose their shape and become sparse as we get older. The facts confirm that more full, more formed temples give a young appearance while giving your face structure. To make the eyes stand out, the eyebrows also need attention. For making sparse brows appear fuller and filling in gaps, a good brow pomade or pencil is ideal.
Mascara, eyeshadow, and eyeliner:
You can look younger and remove years from your face with the right eye makeup. Make use of a concealer that does double duty if you always look tired, no matter how much you sleep. Choose a shade with a yellow undertone to highlight the area and conceal dark circles. When it comes to the colors of your eyeshadow, choose warm, matte ones. The appearance of being well-rested is created by a base of mocha and peach orange. Your eyes will appear lighter and have more depth if you use a good gel liner that draws a line as close to the lashes as possible to help create the appearance of a thicker, darker lash line.
Lipstick:
The best way to complete almost any look is with lipstick. Your face will come to life and appear sophisticated with just a single-color swipe. Your lips tend to wrinkle more easily as you get older, so you need to change how you apply lipstick.
How to apply lipstick smoothly in your 40s?
Keeps your lips soft by removing dead skin cells.
Apply a saturating lip emollient to keep your lips hydrated and permit the recipe to retain on your lips. Use a towel or washcloth to remove any excess lip balm while you wait for that to happen.
You can apply concealer to your lips if they are pigmented.
To prevent lipstick from running, lightly stroke the shape of your mouth with a lip liner pencil that matches your chosen color.
Use one application of lipstick from the bullet.
Skin changes altogether with age. Because of this, makeup products and methods must also evolve. Therefore, select products that complement your skin type and tone and are appropriate for mature skin. You can also achieve flawless skin at any age by leading a healthy lifestyle and keeping your skin in good overall health. So, to get started, follow the advice in this article about makeup for women over 40.
Should women over the age of 40 use powder or liquid foundation?
Your skin type is a factor. Choose a foundation made of powder if you have oily skin. An oil-free liquid foundation is another option. For dry skin, utilize a saturating powder, stick, or fluid establishment. Blended skin types permit you to try different things with a blend of both.
Are you less likely to wear makeup as you get older?
You need to be more careful when applying makeup as you get older. Use only the essentials, not multiple products. Choose products that are gentle on the skin and come in sheer formulas. Colors that complement your skin tone should be used.